There is one real good reason to get up and leave the orange glowing embers of the camp fire at the waters edge, on a nice, warm, moon lit, summer night up at Kamp Kerr ............

It is to slip on out into the cool dark waters of Chaumont Bay, on the catamaran, for a night sail with nothing in sight but the distant glow of cottage lights and campfires on the far shore .............

Listening to the soft rush of the wind as it slides across the sails and the bright trickling sound the water makes, as it quickly glides along each side the boats twin hulls ............

Sailing along beneath an inky black sky, just packed full of a billion stars and the bright cool light of the full moon, shining down on the water, from above the distant shadowy hills .......

So quiet and so peaceful, while moving along so fast, in the quiet darkness, with nothing but the awesome raw power of the steady night breeze ........


What a rush .. I can't believe that all this is still free ....... !



---

So, you ask? What the ?@%&# is a Catamaran ?

And why is Bob so #!*$? worked up about them ?

A Catamaran orHobie Cat is a small beachable sail boat. A boat with no motor and two hulls that just flies across the water on a windy day, at amazing speeds, while one hull flies up in the air, threatening to throw you off and flip the boat over, unless you maintain complete control with steering & the sheets (ropes) & trapeze out off the side of the boat in a trapeze harness..............

I come from a family of Harley riders and I loved to ride em too but those damn cars just kept turning left, right in front of me, knocking me off the bike. I didn't have any choice but to give up the bikes if I wanted to stick around here in one piece for a little while longer...........

My good friend, Ed Magin took me out for a wild sail on his 16' Hobie Cat on Lake Ontario and on Sodus Bay on a really windy day, during the summer of 1983. He had me standing out off the side of the boat, held on by only a trapeze wire and harness, as he scared the hell out of me......

It was a speed thrill with the same kind of adrenaline rush as a wild motorcycle ride but I knew that if we flipped over, I would just get wet and wouldn't get any of that nasty old road rash......

I was hooked and haven't looked back since......

If you want a glimpse at what flying on a catamaran is like, just check out my catamaran or come on out on a warm, windy day for a sail !!!!!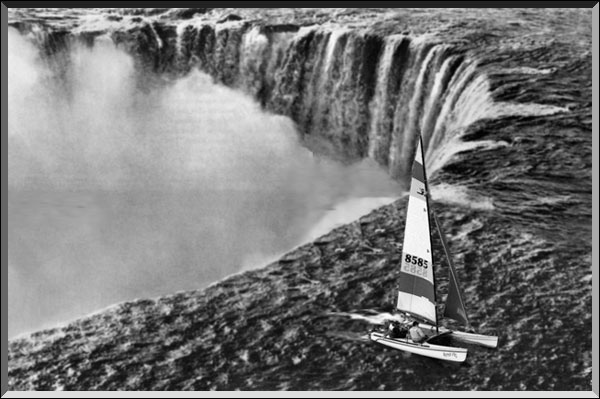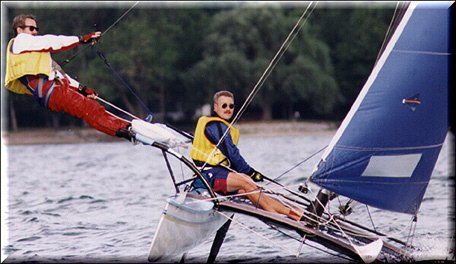 Currently I'm sailing a Hobie 18, "The Wind Pig" ! I sold my Mystere 6.0XL . (Photo below).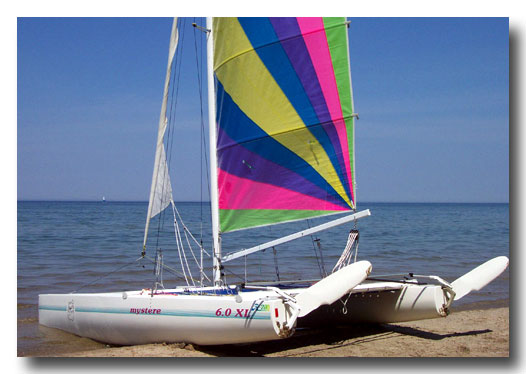 I spend some of my free time, away from work, (during the spring, summer & fall), sailing with my friends on that Great Lake, Ontario. Several friends and I all sail our catamarans from Light House Beach, a nice sandy beach on the southern shore of Lake Ontario, about 10* miles west of Rochester,NY (Charlotte) near Bogus Point in Parma, NY. (* 9.4 miles west of the Genesee River) For AERIAL VIEW of beach.
Come sail with us on a nice warm, breezy day and I guarantee that you will probably become hooked on flying Catamarans too...........
---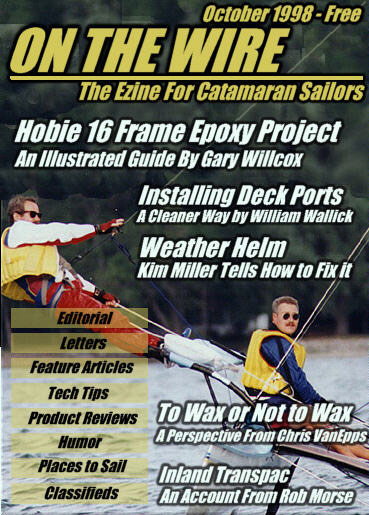 The now defunct internet Catamaran Magazine, "On the Wire" , was a cool E-Zine about catamaran sailing, with great articles, how to, tuning tips, humor & graphics. They chose this photo of Jack & I racing on the "Wind Pig", at Canandaigua Yacht Clubs CMOR regatta for there October 1998 cover.
(Photo by: Jay Tovey)
---
For the best printed Catamaran Magazine, you should check out "Catamaran Sailor".

"Catamaran Sailor" is a NEWS paper that covers any and all news concerning beach cats of all brands and breeds. Published 10 times a year by Mary Wells & Rick White of the famous Racing Clinics & Seminars, as well as authors of several great catamaran racing books. Includes regatta schedules for the year as well as lots of catamaran news, photos & great articles. All for only $15.00 !




You can e-mail me at: Bob@Kerr.net





www.bobkerr.me

WARNING: This web site has not been enhanced for anything, but it does look best if your system supports 1024x768 resolution and your browser supports tables, plates, silverware & napkins.

This site is copyright protected, by: Bob Kerr © 01-16-2000. Any unauthorized duplication or use of this site or it's images, with out the express permission of Bob himself, will probably make you feel really, really awful and wish you hadn't done that to him !

For some additional warnings and disclaimers, just CLICK HERE !